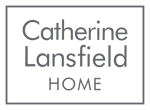 Catherine Lansfield is the label of choice for those who love and value great home fashion. Renowned for its style and quality, it caters to those who appreciate the finer aspects of home decor.
A Wide Range of Designs
Catherine Lansfield offers a diverse range of designs that cater to different tastes. Whether you're drawn to fresh, summery florals or trendy fashion prints, there's something to suit every preference. Featuring a perfect blend of comfort and style woven together, these quality pieces feature a palette of colours and patterns that can turn any bedroom into a haven of relaxation and bring a touch of luxury to your everyday routine.
Inspiration from Various Sources
At Catherine Lansfield, inspiration is drawn from various sources to introduce fresh, exciting narratives into your home. Their designs seamlessly blend on-trend patterns and colours with beautiful textures and comfort-enhancing details. The timeless favourites, on the other hand, bring classic style, rich embellishments, and luxurious fabrics into your bedroom.
Choose Catherine Lansfield for home inspiration.
If you're seeking home inspiration coupled with style and quality, Catherine Lansfield is the brand to trust. With a wide array of bedding sets to select from, you're sure to find the perfect fit for your home decor.
Quality Assurance: Designed in Great Britain, Ethically Sourced Worldwide
Catherine Lansfield takes pride in her commitment to quality. All products are designed and developed in Great Britain and made from ethically sourced 100% cotton. Stringent quality control measures ensure that you receive only the best in terms of design, style, and quality leaving you to snuggle up in style knowing each piece has been made to high quality and human-ecological safety standards in accordance with MADE IN GREEN by OEKO-TEX
Create a stunning focal point in your bedroom today.