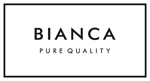 Discover the Perfect Bedding: Elevate Your Sleeping Sanctuary
From bold patterns to delicate details, Bianca Fine Linens from Turner Bianca offers a captivating array of designs that will breathe new life into your sleeping sanctuary. Whether your style leans towards sleek modern aesthetics or timeless classic themes, their linens effortlessly complement any décor. Each piece exudes its own unique charm, promising to awaken a world of possibilities for your bedroom.
Unwind in Tranquil comfort
Bianca Fine Linens understand the importance of creating a peaceful atmosphere in your bedroom, and their linens are thoughtfully designed to promote relaxation and well-being. The carefully chosen colour schemes within each piece inspire a sense of tranquilly, allowing you to unwind and recharge after a long day. Rest assured that your bedroom will become a haven of serenity with our thoughtfully curated linens.
Premium Quality for Luxurious Comfort
Bianca Fine Linens is committed to delivering premium-quality products that surpass your expectations. Their linens are crafted from 100% cotton, sourced ethically and in accordance with Made In Green by Oeko-Tex standards. This means you can indulge in a luxurious feel while enjoying the convenience of easy care. Experience the epitome of comfort with their meticulously crafted linens.
Enhance Your Sleep experience
Their linens go beyond aesthetics; they are designed to elevate your sleep experience. The attention to detail in each piece ensures exceptional softness, durability, and breathability. Sink into the plush comfort and wake up rejuvenated and ready to embrace the day. With Bianca Fine Linens, you can create a sleep haven that caters to your well-being.
Easy Online Shopping Experience
Ready to transform your bedroom with Bianca Fine Linens? It's easy! With just a few clicks, you'll be one step closer to enhancing your sleep sanctuary.