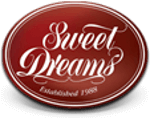 Sweet Dreams' story all began with a dream! Since the day the business was started, their mission has been to provide top-quality products at the best prices. Something they continue to do over 35 years later.
Where a product is sourced, they keep tight control over costs. With their divans and mattresses, they carefully assess all components, from cover to filling, to ensure one element doesn't push a price beyond what a bed's specification and the current market demand. Yet their quality is never compromised.
All the above is translated into solid, reliable sales by the fact that they keep their promises! From placing the order through to delivery, you'll find the process smooth, efficient and customer friendly.
In 2008, on Sweet Dreams 20th anniversary, the company's managing director, Riaz Ahmed, won two awards for entrepreneurship. This recognition of the founder's qualities indicates what's so special about Sweet Dreams: A brand that understands price is critical, especially in tough market conditions.
Throughout the years, their range of products has grown significantly. They now offer a diverse catalog, featuring luxurious high-end items as well as more budget-friendly options, all of which maintain specifications designed to guarantee comfort. Their various specifications and price points cater to different preferences and budgets, ensuring there's something for everyone.
All Sweet Dreams mattresses are made in their own factory. They consist of open coil springs or pocket springs - depending on what type of support you require.
An open coil spring system is where the springs are wired together to form a total framework beneath the mattress fillings. This is the most common spring type used in mattresses sold in the UK, and provides an equal level of support throughout. This offers a cost-effective alternative to an independent pocket spring system.
The pocket spring system is the best at providing individual support to the sleeper. The upper layer of springs shape to the body contours while the lower layer absorbs changes in weight distribution for the ultimate in comfort and support. As a rule of thumb, the higher the number of individual springs, the more support will be provided to the sleeper.
Sweet Dreams manufacture all their divans and mattresses themselves, which has become a central aspect of their success. All components, from covers to filling, are carefully assessed to ensure that the quality is always exceptional.
Choose from a huge range of Sweet Dreams bed frames, safe in the knowledge that they have been designed and constructed to the highest specification and the greatest attention to detail. Sweet Dreams are a brand known for their traditional craftsmanship and excellence in classic bedroom furniture. Our range of Sweet Dreams bed frames includes everything from classic children's bed frames to luxurious and bespoke ones.
Sweet Dreams was one of the first companies to introduce side-opening ottoman divan beds. Aimed at customers who have a need for storage, these beds are available as bases on their own or complete beds that include mattresses.
The Sweet Dreams Bunk Bed Collection is a beautiful range ideal for younger children or those in their older years sharing a room with twin beds. The designs vary from simplistic yet sturdy, to the fun and imaginative.
Sweet Dreams Adjustable Beds comes in a variety styles and designs. With this type of bed you can choose a mattress with either a pocket spring filling, foam, or memory foam.
Adjustable beds are also designed to help provide the right amount of support and comfort for people who spend a long time in bed watching TV, reading, writing or just relaxing.
The Sweet Dreams TV Beds are fantastic quality and have a slick style. To watch TV, you simply press the controls on the ergonomically designed wireless hand control and the TV automatically starts to rise up from the foot of the bed. These beds also feature a raising guard that adds safety and minimises the chances of dropping items such as DVDs into the footboard. When finished, simply use the controls again to lower the TV back down. One of the bed's siderails incorporates a storage tray, ideal for situating your DVD, Blu-Ray or games console (sold separately).
The Sweet Dreams Sofa Bed collection has a range of designs and styles. Not only do beds beyond the bedroom need to be comfortable and practical, but they also need to embrace living-room chic.
Available in both fabric and faux leather.
Purchase a Sweet Dreams product today. Being National Bed Federation Approved (NBF) ensures the quality and safety of Sweet Dreams beds, giving buyers confidence in their purchase.