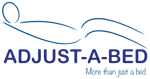 As a UK-based manufacturer of premium adjustable beds, Adjust-A-Bed is on a mission to enhance your sleep. They firmly believe that quality rest is the bedrock of a happy and healthy life.
Redefining Comfort
Founded by a passionate team of sleep enthusiasts, their vision is clear: to become the leading provider of electric adjustable beds. Their products are thoughtfully designed with sleep science at the forefront, fostering improved circulation, relieving pressure points, and addressing common sleep issues like snoring and acid reflux.
Unwavering Commitment to Quality
Adjust-A-Bed uses the finest materials and enforces rigorous quality control standards to meet the highest levels of excellence. They aim to empower individuals to take charge of their sleep health, enabling everyone to enjoy personalised sleep comfort and lead a fuller life.
Elevate Your Sleep Health
Optimal sleep is vital for physical and mental revitalization. Transform your bedroom and your sleep experience today with Adjust-A-Bed!