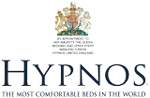 Hypnos Beds is a well-known British family-run business that has been perfecting the art of crafting luxury pocket spring mattresses and beds by hand for over a century. Their commitment to superior artistry and producing some of the most comfortable beds globally has earned them numerous awards and accolades, including a Royal Warrant, Bed Manufacturer of the Year, and the Queen's Award for Enterprise for International Trade and Sustainable Development.
In addition to its exceptional products, Hypnos Beds takes its corporate social responsibility seriously and continually seeks ways to support its customers, suppliers, farmers, and communities. One such example is their partnership with Magic Breakfast, a charity that supplies healthy breakfasts and support to schools in disadvantaged areas of the UK.
Hypnos Beds is also committed to sustainable designs and responsible sourcing. As the first carbon-neutral bed maker in the UK, they have formed partnerships that reflect their dedication to social and environmental responsibility, such as their collaboration with the Eden Project and their association with Red Tractor Food and Farming Standards.
Now selling worldwide and offering a variety of products in their catalogue, including:
Hypnos' philosophy and pursuit of perfection have earned consumers' trust since 1904, helping sleepers achieve years of sumptuous and comfortable sleep. Hypnos is a reputable, dependable, and responsible company that values quality, sustainability, and social responsibility.
We offer a wide selection of Hypnos mattresses, headboards and pillows to accompany your new mattress and ensure a good night's sleep.
Additional-information
Our team of award-winning bed experts are on hand to help you with any purchases. As a family run, independent bed shop, we are able to offer free, impartial advice to help you get the product that best suits you. Give them a call on 01928 242829 or click here to email us. Alternatively, use the chat feature on our website or visit one of our showrooms. A warm welcome awaits!