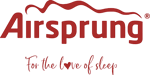 Airsprung Mattresses and Beds offer an extensive range of products to suit any budget, aiming to provide customers with the ultimate relaxation experience. With more than 140 years of experience, the company has become one of the largest bed manufacturers in the UK.
Hedley Chapman established the company in 1871 in Trowbridge, Wiltshire, manufacturing straw palliasses at a reasonable price of 3s 6d a pair. Chapman believed in offering quality products at affordable prices, which resulted in the company's continuous growth. As mass-produced mattresses became more advanced, the company modernised its processes to remain at the forefront of technology.
In 1930, when the interior sprung mattress was introduced, Chapman's company quickly embraced new plants and machinery, earning a solid reputation in the industry. Two decades later, the company rebranded as Airsprung to reflect its innovative designs. Today, the company is a vital part of a furniture group that employs more than 600 people nationwide.
While the company has undergone significant changes, its commitment to continuously improving its products and investing in research and development remains unchanged. The ultimate goal of Airsprung Beds is to offer innovative and beautiful products at affordable prices.
Useful information for shoppers:
Knowing you are buying from not only a reputable brand, but also from the UK's leading award-winning independent bed and mattress retailer, will give you maximum confidence in your Airsprung purchase. Give our team a call today on 01928 242829 or email: sales@landofbeds.co.uk. Alternatively, pop into one of our stores today and sample first-hand what makes this brand an excellent choice. The kettle is always on, and a warm, friendly welcome awaits alongside expert bed and mattress knowledge.