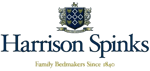 Your Path to a Blissful Sleep: Over 180 Years of British Craftsmanship
Harrison Spinks, a Yorkshire-based British bed manufacturer, has been crafting high-quality beds, mattresses, and bedding products for over 180 years. With a rich heritage and a commitment to excellence, Harrison Spinks is dedicated to providing customers with the ultimate sleep experience.
Sustainable Manufacturing for a Greener Future
At Harrison Spinks, sustainability is at the heart of everything they do. As the only bed company in the UK that owns a farm, they take pride in producing their own fillings and materials. With over 600 sheep on their 300-acre farm in North Yorkshire, they ethically rear sheep for their natural wool. They also grow natural fibres like hemp and flax without the use of pesticides, ensuring their materials are hypoallergenic, sustainable, and breathable for a comfortable sleep. Moreover, they design and manufacture 100% recyclable springs, making them market leaders in sustainable development.
World Leaders in Sustainable Comfort Innovation
Harrison Spinks aspires to be a global leader in sustainable comfort innovation. They continuously strive to improve their products and processes to minimise their environmental impact. With a focus on renewable energy sources and waste reduction, they have received numerous awards and certifications for their sustainability efforts. By employing local farmers and expert craftsmen and craftswomen, they ensure the durability and quality of their products while supporting the local community.
Beautifully Crafted Collections to Meet Your Unique Needs
Understanding that everyone has unique preferences and budget considerations when choosing a sleeping platform, Harrison Spinks offers a range of collections designed to meet various needs.
Recognised Excellence
Harrison Spinks has been recognised with numerous prestigious awards. Since 2013, they have been awarded a total of seven Queen's and King's Awards, more than any other bed manufacturer. Their commitment to innovation and international trade has recently earned them two esteemed King's Awards for Enterprise. Additionally, they retain their Queen's Award for Enterprise in Sustainable Development, showcasing their ongoing dedication to sustainability and environmental stewardship.
A Full Range of Sleep Solutions
Harrison Spinks offers a wide selection of sleep products to complete your perfect sleep environment. From mattresses and divans to bed frames, headboards, and bedding accessories, they are committed to providing comfortable and supportive solutions for a restful night's sleep. With their extended warranties, you can shop with confidence, knowing that your investment in Harrison Spinks products is protected.
So, experience the exceptional craftsmanship, sustainability, and comfort of Harrison Spinks. Shop today and choose the sleep products that align with your needs and preferences, and embark on a journey to blissful sleep.