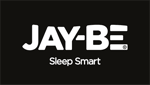 Over 100 Years of Sleep Innovation
With a heritage dating back to the early days of the industrial revolution in Yorkshire, England, JayBe® has become a leading UK bed brand known for innovation, comfort, and environmental consciousness. All JayBe® beds, mattresses, and sofa beds are designed and manufactured in their UK factory, ensuring meticulous attention to detail and adherence to British (BS), European (EN), and international quality standards.
Experience Sustainability and Sleep innovation.
At JayBe®, sustainability is at the core of their philosophy. They are committed to creating a more sustainable future by reducing their carbon footprint and environmental impact. Their headboards and upholstery use wood from FSC-traceable and sustainable sources, while their mattresses feature recyclable and reusable comfort layers. Through innovative use of recycled plastic materials, they've diverted over 100 million bottles from landfills.
FSC-accredited and Responsible Manufacturing
JayBe® has held official FSC® certification since 2013, demonstrating its commitment to responsible forest management. All their wood is sourced from traceable and approved sustainable sources, protecting the world's forests and their inhabitants.
Global Reach and Local Support
Their product range is constantly evolving to meet consumer needs, and you can find JayBe® bed solutions in countries worldwide. They take pride in supporting charities like Kirkwood Hospice, The Salvation Army, and Forget Me Not Children's Hospice.
Setting High Industry Benchmarks
As pioneers in sleep technologies, they collaborate with bed and mattress specialist stores and retailers to design new products that offer exceptional comfort and quality at excellent value. Choose JayBe® for sustainable sleep solutions and experience the difference in comfort and innovation.