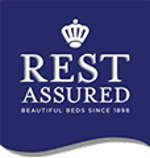 Rest Assured Beds have been making beautiful beds since 1898. That's over 100 years' experience and insight into the perfect night's sleep. For your complete ease and comfort, their mattresses contain hundreds of springs placed closely together under layers of sumptuous fillings. Each precision-made coil is wrapped in its own individual cloth sleeve, holding the spring at exactly the right tension and allowing it to move independently. This means each spring is poised to adjust and respond to every movement you make.
Each range of Rest Assured beds have been designed for different degrees of comfort and support. Rest Assured devise exactly the right spring and filling combinations so that you have a greater choice of different comforts to choose from. The result - A range of beautiful beds that are so luxuriously comfortable, you'll wonder how you ever managed without one.
Rest Assured Mattresses

Rest Assured mattresses contain hundreds of pocket springs placed tightly together under layers of sumptuous fillings. Rest Assured mattresses re designed to adjust to you, rather than the other way around. Each precise spring is wrapped in its own individual material sleeve, which allows the spring to independently move whilst holding exactly the right tension. Each Rest Assured mattress is poised to adjust and respond to your every movement, giving you a deeply supportive sleep all night long.
Rest Assured Divan Beds
Rest Assured divan beds are designed to provide the ultimate sanctuary, a safe haven where you can relax away from the worries of the world. All timber used in Rest Assured divan beds come from FSC certified forests.
The base features a solid wooden top which is upholstered in fabric. This type of base will provide a supportive feel to the mattress.
The fillings are as follows.
Memory foam is an innovative material designed to shape itself to the contours of your body and then spring back into shape when pressure is released. Memory foam mattresses can offer valuable sleep support in a number of ways, such as enhancing circulation, equalizing pressure to relieve back problems, promote better spinal alignment, and reducing the effect of allergens for a fresher, healthier night's sleep.
Natural mattress fillings, which provide a comfortable supportive layer on top of the spring system. The traditional craft of gently separating fibres by hand enhances the inherent attributes of natural fillings. This meticulous process ensures an even distribution of fillings, giving an opulent feel.