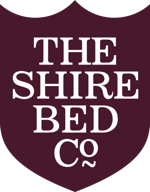 Shire Beds was founded in 1997, and they are proud to create only beautiful mattresses, beds and headboards using the finest materials and experienced craftsmen. They aim to deliver high quality products at exceptional value. All Shire Beds are made in Britain, with all their products available to be tailored to your specification – true believers that good design is a necessity and not a luxury – quality does not need to be expensive. For those who buy a Shire Beds product, that means getting a well-made, super comfortable and great value bed.
This family-run company is built on a solid, wholly British principle; if the job's worth doing, it is worth doing well. They believe in good, honest family values, staying close to their roots whilst also innovating and striding for the future. Shire Beds offer bespoke manufacturing, always providing their customers with the highest quality products which have been tailored specifically. Their bed ranges have the option to include additional features such as drawers, special sizes, sprung edge bases, castors or leg fixtures and a variety of headboards.
Shire Beds Mattresses
Shire Beds mattresses use luxury fillings and finishes which is perfect for those looking for both quality and great value for money. The varied choice of spring counts in their mattress offers a choice of soft, medium, and firm feel but never forgetting the luxury feel so every customer receives the correct level of support.
Shire Beds Divan
Shire Beds come with a platform top as standard, but you have the choice of a sprung edge base options, which works wonders to soften the feel of the mattress. For those who want to sink into a soft cloud when it comes to bedtime. All the wooden drawers are upholstered to match the chosen divan base and all beds are available with any combination of drawer options. The drawer options include continental drawers, side drawers, end drawers and slide drawers.
Shire Beds Headboards
Shire Beds Headboards will complete your beautiful new bed and will help to make it the centre piece in your bedroom. They are upholstered in a range of luxurious fabrics, with striking and contemporary designs.