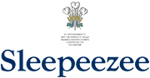 Discover the Perfect Sleep.
Established in 1924, Sleepeezee has been dedicated to crafting the ultimate sleep experience for almost a century. As proud suppliers to the Royal Household and supporters of QEST, Macmillan charities, the British Heart Foundation, and Ellenor, they strive for excellence and quality in everything they do.
Expertly Crafted for You
Sleepeezee believes in weaving innovation with market-leading mattress designs to provide you with the perfect bed. Their wide range of high-quality mattresses and bedding products are made in Britain to their premium standards, ensuring a sumptuous sleep every night.
Supporting Local Charities
With traditional family values at their core, they support national and local charities that are close to their hearts. Over £100,000 has been donated to Macmillan Cancer Support, and they continue to aid the British Heart Foundation and Ellenor, a local hospice.
Sustainable and Eco-Friendly
At Sleepeezee, they prioritise sustainability and the welfare of our planet and people. Their timber suppliers are FSC certified, and they use natural materials like British wool, silk, cashmere, and horsehair in our beds. They're active supporters of the Campaign for Wool, promoting the benefits of British wool and supporting sheep farmers.
Proud Royal Warrant Holders
As holders of the Royal Warrant to HRH The Prince of Wales since 1985, Sleepeezee is recognised for the highest standards of excellence, quality, and service. They take pride in crafting beds using traditional, time-honoured techniques and top-quality materials at our factory in Rochester, Kent.
The perfect sleep you deserve
Experience the unmatched comfort of Sleepeezee, a trusted name in sleep, providing mattresses to Travelodge hotels for a truly restful and rejuvenating stay.