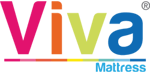 100-Night Sleep Trial On This Mattress - Love it or exchange it
Viva Mattress has been designed by a team of bed experts with over 40 years' of experience and one goal in mind; to provide users with the best night's sleep at the most affordable price!
Containing the best qualities of the many mattress options available on the market, this advanced pocket spring and memory foam mattress saves buyers endless hours of research; it provides exceptional levels of comfort whether you sleep on your front, side or back.
Approved by the National Bed Federation, Viva is made exclusively in the UK. We are so confident in the quality of the British craftsmanship, the mattress comes with a FREE 10-year guarantee as standard. (Now that's a lot of sleeps you'll be covered for!)
If you've slept on an uncomfortable mattress or have a bad back, you'll be familiar with the endless tossing and turning involved with trying to find a comfy sleep position. With the Viva Mattress, your shoulders, hips and other painful pressure points are soothed away by the generous layer of VivaTec - a specially-formulated zoned memory foam.
VivaTec targets key areas of your body that cause pressure discomfort when lying down for long periods. This clever material helps increase blood flow throughout the body to aid deep relaxing sleep.
The mattress is categorised as having a medium firmness tension with a 2,000-pocket spring system that redistributes your weight. This prevents further pressure build up and corrects your posture - leaving you calm, rested and relaxed.
The Viva's comfy soft to the touch stretch-knit cover incorporates the latest antibacterial and antifungal protection to ensure you're sleeping on a fresh, hypoallergenic surface. It's the healthier, happier way to sleep.
We believe the best way for you to decide if the Viva is truly right for you is to try it in the comfort of your own home. That's why we offer a love it or exchange it 100 night guarantee; so you can put your Viva Mattress to the test. If the mattress is not everything you hoped for, you can exchange your mattress, just let us know within 100 days.
Go on, start your day with a smile on your face; - thanks to Viva!